My blessed week....feeling the love...
This week started off real negative with a bad day with the kids 8( Then it turned around....never underestimate the power of prayer my friends...
Yesterday two of my parties were featured over at
Catch My Party
! Then I find out that I am the newest recipient of the
Star Blogger Award
from
No Ordinary Blog Hop
! I usually don't make it a habit of accepting blogging awards mostly because they are very time consuming to participate in, however this one was earned and is all for "me"...lol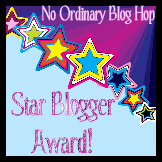 First of all I would like to Thank Tracy from
A Slice of Smith Life
, Anna-Marie at
Life's Adventures
and Lynda at
My Hearts Desire
for all their hard work that goes into No Ordinary Blog Hop. I have found some great friends on line this way and it's fun to share ideas!
This weekend is Molly's 4th birthday party and I am so excited for her! I have been working on it for a long time and I hope she enjoys it!
Also, I am excited to be joining in with hundreds (maybe thousands) of other bloggers at The Ultimate Blog Party! You should check it out friends!
Hope your weekend is blessed and full of fun!