Shout outs - feelin' the love today!
I have been overwhelmed with the

love

today from some fabulous party sites and i wanted to give them all a shout out!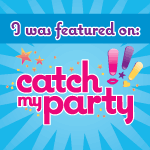 All these gals featured our Baseball Party from last weekend! I feel so honored to be included in their blogs and/or Facebook! They are all such FAB gals and give to much to the blogging world!
Thanks for sharing my hard work with your followers!
If you are looking for great party ideas and tips...check these blogs all out!