DIY Valentine Gifts for classmates and friends
We are 1 month until Valentine's Day! (

love me some fun holidays)

!
To refresh you all, I am challenging myself this year to a strict budget of $ 10 for our homeschool holiday parties (of course this does not include birthday). For our upcoming

Valentine's Day

party I was able to make something that cost us nothing.
Heart Shaped Valentine Crayons
Aren't they cute!
Here is how we created them...
Took all our broken crayon pieces that I have been saving
(there is still time for you to save them)
and put them into Silicone heart shaped cupcake cups
(which are honestly not my favorite to bake with but great for making soap and crayons)
Set oven to 250 degrees...
Zachary is learning about RESPECT for the oven and how to
Here is what they looked like all melted (about 15 mins)
I set ours out on the deck to set up...once set (about 30 mins)
I popped them out of the molds...and there you have it...
is where you can also download an entire

Valentine Party

for FREE!
OH Happy Day and Happy Budget!
posting this tutorial on your site!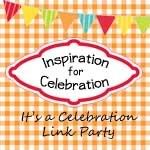 Linking up to:
Mama Mia's Heart to Heart