Farmhouse Friday
Happy Friday friends. I am not really sure where March went but I am glad it's almost over!! The weather here in the Hudson Valley NY area has been cold, white and windy. I am sooo ready to see SPRING!!!
Catching ya'll up a little since I have not posted a Farmhouse Friday in a while!
Loving our Chalkpastel.com FREE LIVE Videos on Facebook with Hodgepodge Mom and Nana. Check out their Facebook page!
The snow has been ridiculous with the March storm. Thankfully we did not lose power but we did have days of shoveling out.

Sammie is in her last few months of Black Belt classes and graduates with her black belt in June (Lord willing)

Our neighbor's chickens are finally producing eggs for the community. Fresh eggs are THE BEST!
Our newest game obsession is Rummikub. My gal pals got me hooked so I had to buy it for our home.

Sammie and Molly have had fun at the library programs each month.

Dr. Seuss - Read Across American month - this year we did not nearly do as much as we had in the past.
As we do each year, we went to our BFF's for St. Patrick's Day and had a blast. I met up with my old collage roommate (lives in the same town as our BFF's) and we were able to bring Lilly Dog with us also to our BFF's house.

I got a chance to zoom thru the grocery store Wegmans and find some of my all time favorite cookies - Half Moons (they call them black and whites down here but do not taste nearly the same) sadly the cookies did not last long 8(.
Looking for some Spring Art for the kiddos (and parents)? Why not check out the Spring Chalk Pastel book from Chalkpastel.com Link below (affiliate)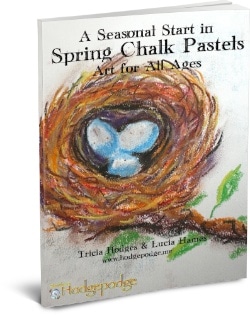 Homeschool - the children are working hard in their 3rd quarter. Zachary is halfway done with his Science Order & Reality thru A Beka. The girls are having a great time studying what they learn on the Popular Mechanics For Kids videos.
Other subjects moving right along. We have planned a few Spring trips
(one with kids and one girls trip only!)
Watch for those!
In the know....
YouTube - Obsessed with Tangi The Cavers Wife
In case you missed my post on Easter Brunch ideas you can find that on the blog here.
This post may contain affiliate or sponsor links. You can see our full disclosure policy at the bottom of this blog page.